Audira Labs: The Sound Strategy to Improve Performance
Tune in, listen, & amplify your potential
Drawing on principles of music and the fundamentals of leadership, Audira Labs supercharges productivity by leveraging a fundamental truth: All the information and insight we need to overcome our most pressing business challenges is available to us.
Through highly experiential workshops that inspire collaboration, cultivate accountability, and align individual performance with organizational purpose, Audira Labs harnesses your power to listen – and unleash your power to lead.
Book a Free 30-Minute Consultation
You can have a team of superstars, but without clear roles and responsibilities everyone will sound out of key. This Audira Lab activates the insights and techniques of music producers and conductors to re-tune even the most dysfunctional team. These are engaging, highly experiential exercises that provide attendees with a suite of actionable tools to channel their skills and synchronize their talents, abilities, and strengths.
Build a Culture of Accountability
Interdependence is the hallmark of every successful long-lasting band. This Audira Lab introduces actionable strategies to achieve accountability through a series of music-based exercises that are as memorable as they are entertaining. From powerhouse rock anthems to soul-baring ballads, you'll never again hear a song without reflecting on all that comes together to make it happen and how it relates to your next team project.
Most industries are rife with disruption, and the companies able to thrive are those with the creative solutions. This Audira Lab leverages specific exercises, techniques, and examples of how performers (teams) and producers (leaders) can work together to turn fledgling bands into supergroups. You'll learn to trust each other, allow each instrument to shine, and rock an energetic new anthem born of symphonic team spirit.
"Audira's music-based workshops unlocked our executive team's innate leadership qualities in an intuitive, engaging, and truly fun way. Stephen's workshops armed our C-suite with actionable leadership tools that we could apply in our day-to-day, and the results were immediate and tangible.

Ross Vangalis

CEO & Founder, Queue Brand Communications
Case Study: Audira Labs (Music-Infused Workshop)
Ross Vangalis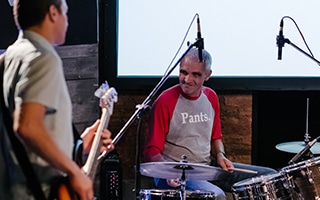 There's something ironic about a prosperous marketing communications agency having a communication problem. But that's exactly what was happening to Queue: this agency had difficulty maintaining successful communication, collaboration and problem solving as it continued to scale. Recognizing the need for improving the executive team's leadership skills, Queue's CEO reached out to Audira.
To aid the agency in overcoming its stumbling block, Audira designed and executed a ten-month, music-infused leadership program. As Audira's signature offering, this program helped enhanced leadership skills like active listening, collaboration, adaptability, accountability, and more, all through the lens of music. Including both 1:1 coaching and monthly team workshops, the agency's executive team learned, practiced and applied leadership principles, all while tuning in to their team.
Post-program, Queue's executive team described an immediate, tangible impact on the way they listened, communicated and interacted with their employees. They felt equipped with the tools they needed to continue fostering a more collaborative, creative culture, even as the company expanded.
Challenge
Rapidly scaling marketing agency experiencing growing pains
Difficulty communicating and collaborating as company expanded
Executive team unequipped with large-scale leadership tools
Solution
Ten-month, music-infused leadership program
Focus on active listening, collaboration and adaptability
Enhance team-wide problem solving through music-based workshops
Results
Immediate, tangible impact on how executives interacted with their employees
Growth of a more collaborative culture
Armed the executive team with tools applicable for future company growth
Sharps and Flats from Our Blog
David Kohler, CEO of Kohler Co., joins Audira CEO Stephen Kohler in Audira's Listening Sessions.
Read More