Turn up Your Talents with Professionally Certified Coaching
At Audira, we can help you tap into your full potential. Just like a musician that works their craft to make it to the big stage, we give you the training, tools, and peace of mind to take your performance to the next level.
Practice. Listen. Perform Better.
We all need a sounding board, someone to help us work out the kinks to refine our song into a greatest hit. As a trusted partner invested in your success, we provide coaching for leaders that are hungry for growth, craving change, and open to development.
Our strategic approach helps leaders find their personal rhythm, incorporating emerging skill sets and building upon their own personal styles and strengths. We equip you with the resources needed to hit a cadence with their teams and become maestros, guiding their teams to deliver their finest performances.
Intrigued? Contact us today and schedule a chemistry meeting to see if Audira is a fit for you or your organization.
BOOK A FREE 30-MINUTE FIT SESSION
Audira works with leaders of all levels from the C-Suite to managers. Leveraging your individual objectives along with your organization's needs, we combine a personalized approach with a systematic methodology to help you achieve your goals.
80% of people who receive coaching report increased self-confidence *
Over 70% benefit from improved work performance, relationships, and more effective communication skills *
86% of companies report that they recouped their investment on coaching and more *
* Source: ICF 2009
Whether you are seeking the next step or your next gig, Audira can help you define your end goal and build a strategic pathway to get there. Along with extensive experience in coaching people in transition, Audira boasts a powerful professional network to help you conduct your next masterpiece.
"There are defining moments in all of our lives. We can either pass them by, or extract out the goodness. We are not trained to think outside of our everyday reality. Stephen led me in a way that honored my own values and dreams. He helped me to identify my blindspots, and learn how to leverage both my strengths and weaknesses to help shift my mindset. Out of these coaching sessions I was able to clearly define and align with my goals to create the life I have always wanted. Thank you, Stephen Kohler, I am truly humbled by your gifts.

Jodi L. Suson

CEO & Founder Suson Essentials
Case Study: Executive Coaching
Dane Watkins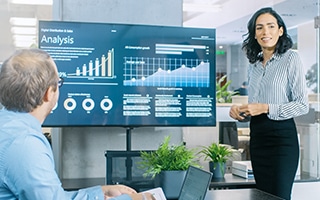 Every leader can benefit from executive coaching, even the ones who seem like they were born to lead. That's who Dane was—talented, passionate, and skilled, Dane's strengths made him a natural leader in the business world. But while in the midst of a transition between different roles, Dane found himself harboring doubts about the path he was on. He felt "stuck," unsure about what he was gaining from his career and the ambitions he wanted to pursue.
Looking for guidance, Dane sought out Audira's services to help coach him through this career obstacle, and emerge from the other side a stronger leader. The Audira team knew Dane needed to identify a role that leveraged his skill set, fueled his passion and aligned with his long-term vision, both in and out of the workplace.
To achieve this, we formulated a biweekly, individualized coaching program that was both tailored to Dane and grounded in a systematic methodology: the "3V" framework. This approach clarifies visions, identifies core values and prioritizes variables to help Dane chart a clear path to his goals.
After six months of Audira's executive coaching, Dane was hired by a highly acclaimed organization in the ideal role for him—one that was stimulating and fulfilling, where he could leverage his considerable talents to contribute in a meaningful way.
Challenge
A talented leader stuck at a crossroads
Transitioning between roles
Unsure about current career trajectory
Solution
Six month, biweekly 1:1 executive coaching
Program tailored to individual strengths, weaknesses, and objectives
Built on "3V" framework
Results
Hired by prestigious organization
Thriving in a fulfilling, stimulating role
Fueling his passion and furthering his true career ambitions
Sharps and Flats from Our Blog
David Kohler, CEO of Kohler Co., joins Audira CEO Stephen Kohler in Audira's Listening Sessions.
Read More